Tech The Halls
Georgia
Tech
Help Give Back To Atlanta's Underprivileged Youth Community
---
Story time! We promise we're not boring.
---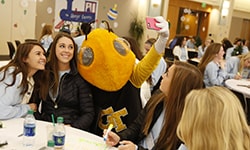 ---
In Atlanta's inner-city schools, only 46% of students graduate high school in comparision to 62% to their suburban counterparts. That's a 16% difference for no significant reason other than these children are born in under-funded areas. Our inner-city graduation rate is among the worst in the country, 12% below the country's average inner-city graduation rates.
Not only that, but these children are more likely to live below the poverty line as children, but these children are likely to feel like the situation is out of their control and they will be forced to live in poverty in their future.
This is what we want to fix with Tech The Halls. We want to create a bond that gives our mentees the ability to change their future.
---
Ready to make a difference. We know you can!
---
You've already took the fist step by visiting our site and reading about what we do! But, why stop there. A ton goes on behind the scenes to make sure each Tech The Halls is a rewarding experience to everyone involved. Read more about Tech The Halls here and keep updated with our events on our Facebook page.